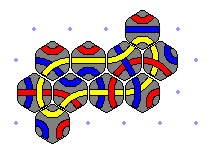 It's a puzzle. It's a strategy game. You can buy it online. You can play it online. It's called "Tantrix," and it gets the Major FUN Award.
The hexagonal tiles are made of Bakelite. Touching and smushing them around is almost as delicious as playing with them. The Tantrix Game Pack consists of 56 tiles. Each tile is unique. There are four different color lines – some are curved, some straight, some are even more curved. There are numbers on the other side of each tile. These are used to determine which tiles are to be employed in creating which puzzle. The Discovery Puzzles involve using tiles numbered 1-30. The Rainbow Puzzles require sorting the numbers into like colors. Then there's Tantrix Solitaire. And, of course, the strategy game for 2-4 players.
There's a bit of learning to do in order to play the strategy game, and the puzzles are the perfect training vehicle. Playing online is very satisfying – the interface is intuitive, the online chat adding a feeling of immediacy and community.
Invented in 1987, in New Zealand, by a New Zealish chap named Mike McManaway, Tantrix is a unique puzzle/game, deserving a position of prominence in anyone's game collection.