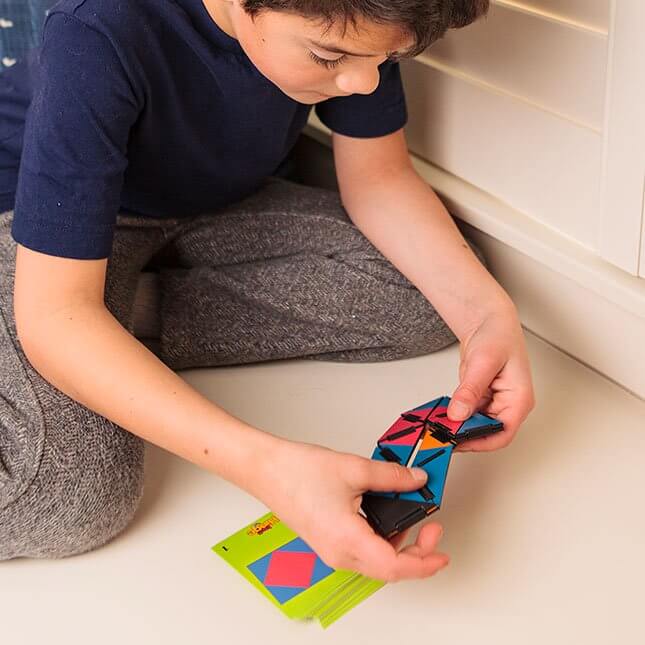 Ivan's Hinge is a puzzle you play with. Or toy with. Though it sometimes feels it's playing or toying with you. The good news is that the playing and toying are almost as much fun as the puzzling and solving.
It's a loop of 16 triangles, each joined together on two sides by a hinge. Some triangles are blue, some red, some orange, and some are combinations of two colors. You play. You fold. And, behold, eventually it all folds into a square or an "L" or a "T" or an "I" or something that seems like a solution to something.
Then you look at the puzzle cards. There are 28 of these. They are two-sided: one side showing what the solution looks like from the other side. Which could easily be considered to be two different puzzles, depending on what side you're looking at.
Playing with Ivan's Hinge, whether you're actually trying to solve anything or not, is like playing with a loop of worry beads, which proves to be very useful when one of the puzzles momentarily gets the better of you.
Folding and unfolding and refolding, you'll often discover that you've created something that is lovely enough to be considered a solution, though it's not even remotely similar to the particular puzzle you're trying to solve. Just sort through the other puzzle cards until you find a match, and, if you can't, don't despair – you've just become a puzzle-making genius.
Designed by Ivan Moscovich, recommended for puzzling people 8 and older, available from Fatbrain Toys.