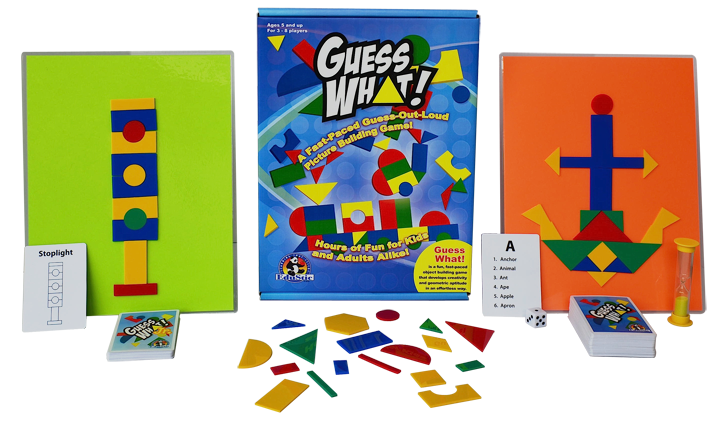 Although billed as an education game, we like to think of Guess What! as a great party game with lots of pedagogical potential. Sure the game promotes spatial awareness, hand-eye coordination, pattern recognition, and geometric reasoning, but no one would care if it wasn't so much fun.
At heart, Guess What! is a cross between Tangrams and Charades. Players take turns getting the other players to guess a word by making a picture with colorful plastic shapes. There are 81 cards, each containing 6 clues. The active player rolls a die, starts the timer, and must make that object with the tangram-style plastic pieces. Guessing players may ask yes or no questions, and the first one to guess correctly wins 2 points. The building player also gets 2 points if the word is correctly identified. Guessing players may also ask for the first letter of the word but this reduces the point value to 1 if the builder answers.
When we played with 6 people, we never ran out of time, but there was a lot pressure from all the guessing and questions that flew around. Clue building was especially intense because you had to simultaneously think about the item, sort through all the plastic pieces, arrange the pieces, and field questions from frantic guessers. Admiring (or ridiculing) the pictures at the end made up a big part of the fun.
There are a couple of clever additional features to the game. For younger players there are 27 Junior Cards which have a single clue PLUS a picture of how to build the item. This allows younger kids a way to manipulate the pieces while also creating something that the guessers will recognize. The pieces themselves are crafted from a flexible plastic that will cling to most clean, smooth surfaces (like refrigerators, windows, whiteboards, or laminated paper). Although this did not really affect the way we played on a table top (the pieces did not slide much) it does allow other kinds of play on vertical surfaces. Good for school and other creative play.
You do have to punch the pieces out before you can play (a process that proved more difficult than necessary, but that's a small nitpick), but once you do, play is quick and intuitive. The directions are short and provide plenty of play alternatives. Major Fun for parties and school!
For 3-8 players, ages 5+
Guess What! © 2010 by EduStic.