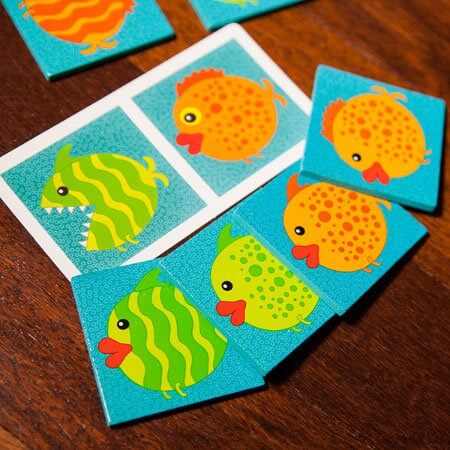 Fish to Fish is a logic and observation game in which players compete to be the first to create a sequence of fish, each fish differing from the previous by only one attribute.
Each fish has five different attributes: color, pattern, the shape of the fin, the size of the eye, and the kind of mouth.
There are 32 Fish Tiles – thick, large, colorful, fun-to-slide-around tiles. You can divide them into 4 sets of 8, each set having the same color and pattern. Half of each set will have small or large eyes; open or closed mouths; small fins or large fins; stripes or spots.
There are also 32 Fish Cards. Each card illustrates two different fish. The object is to be the first to find the Fish Tiles which will create a sequence that begins with one of the fish depicted on the Fish Card, and ends with the other, each tile differing by only one attribute.
What makes the fun as major as it is that there's more than one way to make a correct sequence. So, depending on how close everyone is are to a solution, it is fairly likely that the fish you need are still available. If you can't do it with three fish, you probably can do it with four, or five, or six, if you have to.
There's an additional rule which adds significantly to the majorness of the fun and the tension of the game. If another player has the tile you need, and you only need one tile – that particular one – to complete your sequence, you can snatch that tile away and win the game: much to the chagrin of the other player, and even that much more to your sense of shrewdly won victory.
Fish to Fish can be played as a solitaire, or by 2-5 children of checker-playing age. It was designed by Nicholas Cravotta and Rebecca Bleau of Blue Matter Games, and is made available by Fat Brain Toy Company.